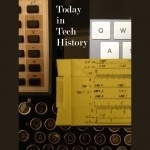 1973 – Bob Metcalfe of the Xerox Palo Alto Research Center wrote a memo on an IBM selectric typewriter, outlining how to connect personal computers to a shared printer. Metcalfe says "If Ethernet was invented in any one memo, by any one person, or on any one day, this was it."
http://www.digibarn.com/collections/diagrams/ethernet-original/
1980 – Namco released an arcade game called Puck-Man. When it was released in the US in October the name was altered to Pac-Man.
http://history1900s.about.com/od/1980s/qt/Pac-Man.htm
1990 – Microsoft released Windows 3.0. It featured big improvements in interface and multitasking. It's Control Panel feature caught the eye of Apple which sued, and lost.
http://www.eweek.com/c/a/IT-Infrastructure/The-Day-Microsoft-Went-Hollywood-with-Windows-30-292510/
Read Tom's science fiction and other fiction books at Merritt's Books site.