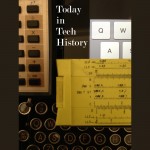 1875 – 17 nations (including the US) signed the 'Convention du Mètre' in Paris, France, establishing the International Bureau of Weights and Measures.
1891 – The first public demonstration of a prototype Kinetoscope was given at Edison's laboratory, for approximately 150 members of the National Federation of Women's Clubs. The New York Sun reported on the demonstration.
1958 – Robert Baumann obtained a patent for a satellite. (US. No. 2,835,548). The patent stipulated the government could use the technology without having to pay royalties.
1990 – The Hubble Space Telescope sent its first light image back to Earth, taken with the wide field/planetary camera.
Read Tom's science fiction and other fiction books at Merritt's Books site.