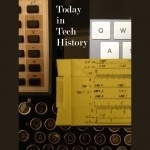 1857 – William Francis Channing of Boston and Moses Gerrish Farmer, of Salem received the first US patent for an "electromagnetic fire alarm telegraph for cities" (No. 17,355).
http://www.google.com/patents?id=fGdWAAAAEBAJ&printsec=abstract&zoom=4#v=onepage&q&f=false
1961 – Venera 1 became the first manmade object to fly by another planet, passing within 100,000 KM of Venus. The probe did not send back any data having lost contact with Earth a month earlier.
http://nssdc.gsfc.nasa.gov/nmc/masterCatalog.do?sc=1961-003A
2006 – Apple opened its 20,000-square foot store at 767 Fifth Avenue. It was the second Apple store in New York City but the iconic glass cube made it the most famous.
http://www.apple.com/pr/library/2006/05/18The-Apple-Store-Fifth-Avenue-to-Open-on-Friday-May-19.html
Read Tom's science fiction and other fiction books at Merritt's Books site.