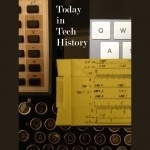 1902 – While going through objects recovered by divers near Antikythera off the coast of Greece, archaeologist Valerois Stais discovered a strange device with gear-wheels inside. The Antikythera mechanism has been puzzling investigators for more than a hundred years.
https://www.telegraph.co.uk/technology/2017/05/17/antikythera-mechanism-discovered-115-years-ago/
1939 – The National Broadcasting Company televised the first sporting event, the second game of a doubleheader baseball game between Columbia and Princeton. About 400 TV sets were capable of receiving the broadcast. Princeton won 2-1 in the 10th.
http://www.gocolumbialions.com/ViewArticle.dbml?DB_OEM_ID=9600&ATCLID=3738874
1943 – The US Army and the University of Pennsylvania signed a contract to develop ENIAC. It was planned to use vacuum tubes and calculate ballistic firing tables.
http://www.nww2m.com/2013/05/70th-anniversary-eniac-contract-signed/
1954 – The first shovel load of earth was dug on the Meyrin site of the first CERN Laboratory building in Geneva.
https://timeline.web.cern.ch/timelines/The-history-of-CERN
Read Tom's science fiction and other fiction books at Merritt's Books site.