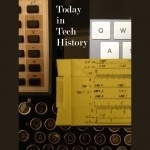 1888 – Emile Berliner demonstrated his flat disc audio recording and reproduction in a lecture he gave to the Franklin Institute in Philadelphia, which was printed in the institute's Journal (vol. 125, no. 60).
http://memory.loc.gov/ammem/berlhtml/berlgramo.html
1946 – At the meeting of the Institute of Radio Engineers (IRE, now IEEE) in San Francisco, Jack Mullin demonstrated the world's first professional-quality tape recorded in the US.
http://www.pavekmuseum.org/jmullin.html
1960 – While working at the Hughes Research Laboratories of the Hughes Aircraft company in Malibu, California, physicist Theodore Maiman used an artificial ruby to create the first laser.
http://www.aps.org/publications/apsnews/201005/physicshistory.cfm
Read Tom's science fiction and other fiction books at Merritt's Books site.