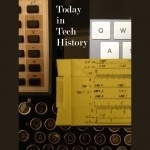 In 1888 – Emile Berliner demonstrated his flat disc audio recording and reproduction in a lecture he gave to the Franklin Institute in Philadelphia, which was printed in the institute's Journal (vol. 125, no. 60).
In 1939 – The National Broadcasting Company televised the first sporting event, the second game of a doubleheader baseball game between Columbia and Princeton. About 400 TV sets were capable of receiving the broadcast. Princeton won 2-1 in the 10th.
In 1946 – At the meeting of the Institute of Radio Engineers (IRE, now IEEE) in San Francisco, Jack Mullin demonstrated the world's first professional-quality tape recorded in the US.
In 1960 – While working at the Hughes Research Laboratories of the Hughes Aircraft company in Malibu, California, physicist Theodore Maiman used an artificial ruby to create the first laser.
Subscribe to the podcast. Like Tech History? Get the illustrated Year in Tech History at Merritt's Books site.