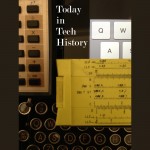 1884 – A group of people interested in the new field of electricity met in New York to start the American Institute of Electrical Engineers.
1939 – Franklin Doolittle put experimental station W1XPW on the air, making it the first commercial FM radio station in the United States. The station later became WDRC-FM in Bloomfield, Connecticut.
1958 – The trademark "Velcro" was registered, protecting the name of the multi-purpose material that manages cables everywhere.
1976 – Atari released the video game "Breakout," making the paddle controller useful for something besides "Pong.
Read Tom's science fiction and other fiction books at Merritt's Books site.