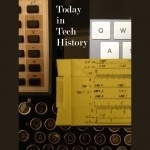 In 1884 – A group of people interested in the new field of electricity met in New York to start the American Institute of Electrical Engineers.
In 1939 – Franklin Doolittle put experimental station W1XPW on the air, making it the first commercial FM radio station in the United States. The station later became WDRC-FM in Bloomfield, Connecticut.
In 1958 – The trademark Velcro was registered, protecting the name of the multi-purpose material that manages cables everywhere.
In 1976 – Atari released the video game Breakout giving the paddle controller something besides Pong to be useful for.
Subscribe to the podcast. Like Tech History? Get Tom Merritt's Chronology of Tech History at Merritt's Books site.