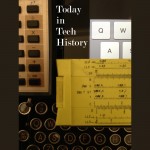 1946 – The US launched its second V-2 rocket at White Sands Proving Ground, which became the first successful launch of a large rocket on US soil. The rocket climbed straight up then pitched to the north reaching an altitude of 71 miles and impacted about 35 miles uprange.
1960 – The nuclear-powered USS Triton submarine arrived in Groton, Connecticut, after completing the first completely submerged circumnavigation of Earth.
2011 – Google announced its Open Hardware Platform and the Google Music service which would eventually become Google Play Music.
Read Tom's science fiction and other fiction books at Merritt's Books site.