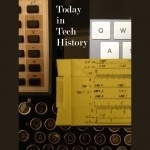 1948 – The University of California at Berkeley and the Atomic Energy Commission announced the artificial production of mesons using the 184-inch cyclotron at the university's Radiation Laboratory.
http://www.lbl.gov/Science-Articles/Research-Review/Magazine/1981/81fepi3.html
1961 – Sputnik 9 successfully launched, carrying a human dummy and and the dog Chernushka. It completed 1 orbit and was successfully recovered upon return. Yes, the dog made it back unharmed.
http://nssdc.gsfc.nasa.gov/nmc/spacecraftDisplay.do?id=1961-008A
2011 – Space Shuttle Discovery on Mission STS-133 made its final landing after 39 flights.
http://www.nasa.gov/home/hqnews/2011/mar/HQ_11-068_Discovery_Lands.html
2015 – Apple and HBO announced a new Internet-only streaming version of HBO called HBO Now would launch in early April exclusively on Apple products including the iPhone, iPad and Apple TV. Apple also announced the Apple Watch would come April 24.
http://www.apple.com/pr/library/2015/03/09HBO-NOW-Premiering-in-April.html
2016 – In the first of 5 games, DeepMind's AlphaGo machine intelligence defeated 18-time Go champion Lee See-dol in Seoul, Korea.
http://www.theverge.com/2016/3/9/11184362/google-alphago-go-deepmind-result
Read Tom's science fiction and other fiction books at Merritt's Books site.