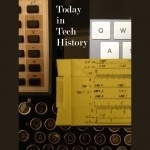 1941 – 80% of US AM radio frequencies were reassigned to new channels as part of the North American Radio Broadcasting Agreement.
http://archive.wired.com/thisdayintech/2011/03/0329radio-stations-shuffle-frequencies
1945 – German soldiers blew the launch tracks for the V-1 rocket site near Letelle, Netherlands, ending the rocket attacks.
https://rarehistoricalphotos.com/v-1-buzz-bomb-london-1945/
1974 – NASA's Mariner 10 became the first space probe to cross the orbit of Mercury about 704 km from the surface.
http://nssdc.gsfc.nasa.gov/nmc/spacecraftDisplay.do?id=1973-085A
Read Tom's science fiction and other fiction books at Merritt's Books site.