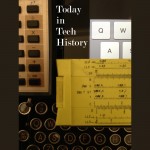 1941 – 80% of US AM radio frequencies were reassigned to new channels as part of the North American Radio Broadcasting Agreement.
1945 – German soldiers blew the launch tracks for the V-1 rocket site near Letelle, Netherlands, ending the rocket attacks.
1974 – NASA's Mariner 10 became the first space probe to cross the orbit of Mercury about 704 km from the surface.
Read Tom's science fiction and other fiction books at Merritt's Books site.