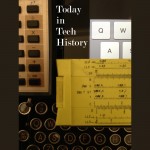 1965 – NASA launched Ranger 9, the last in a series of unmanned lunar space probes. Ranger 9 slammed into the Moon sending back high-resolution pictures of the Lunar surface before impact.
1999 – Dr. Bertrand Piccard, a Swiss psychiatrist, and Briton Brian Jones landed their Breitling Orbiter 3 just after 8 AM local time 300 miles southwest of Cairo, Egypt. They became the first people to circumnavigate the globe in a hot air balloon.
2006 – Jack Dorsey sent the first Twitter post which read "just setting up my twttr". Twttr was the original spelling of the site which was used internally at Odeo.com for the first 4 months.
Read Tom's science fiction and other fiction books at Merritt's Books site.