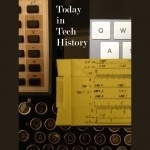 1908 – Gabriel Lippman proposed using a series of lenses at a picture's surface instead of opaque barrier lines, allowing three dimensional pictures. He titled his presentation to the French Academy of Sciences "La Photographie Integral".
http://www.outeraspect.com/history_lenticular.php?
1983 – CBS Records launched the first major compact disc music marketing campaign, launching 16 titles. CDs had gone on sale to the public the previous October in Japan.
https://books.google.com/books?id=8NCWWdZzPksC&pg=PA216&lpg=PA216&dq=march+2+1983+CBS+records&source=bl&ots=rcYY70RzWK&sig=ojeAlsSWjAlrFU5u9J9kQlkTXv4&hl=en&sa=X&ved=0ahUKEwj4yIPuhM7ZAhXGqVQKHWfUCoQQ6AEITTAD#v=onepage&q=march%202%201983%20CBS%20records&f=false
2004 – Review site Engadget launched with a post about T-Flash, a new memory card format, by founder Peter Rojas.
http://www.engadget.com/2014/03/02/today-is-engadgets-10th-birthday/?
2010 – The Federal Constitutional Court of Germany rejected legislation requiring electronic communications traffic data retention for a period of 6 months as a violation of the guarantee of the secrecy of correspondence.
https://www.huntonprivacyblog.com/2010/03/articles/german-federal-constitutional-court-declares-implementation-of-data-retention-directive-unconstitutional/?
Read Tom's science fiction and other fiction books at Merritt's Books site.