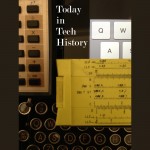 1931 – Jacob Schick began marketing his second electric razor. His first hadn't caught on because of the bulky motor. This time the more practical design became a hit.
1965 – The Voskhod 2 launched and on the second orbit Cosmonaut Aleksei Leonov left the capsule (on purpose) for 12 minutes, becoming the first person to walk in space.
1987 – Thousands of physicists crowded a ballroom at the New York Hilton at the meeting of the American Physical Society to hear speakers talk on high-temperature superconductivity. The session started in the evening and ran until 3:15 AM earning the nickname "Woodstock of Physics."
2015 – Sony launched its Internet TV service called PlayStation Vue in New York, Chicago and Philadelphia. For $50 a month subscribers got around 50 channels plus the ability to record shows in the cloud for up to 28 days.
Read Tom's science fiction and other fiction books at Merritt's Books site.