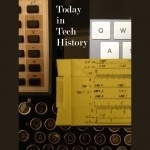 In 1896 – Henri Becquerel discovered images of uranium rocks had appeared on a photographic plate without exposure to the sun. He had discovered natural radiation.
In 1995 – A little over a year after starting the website in January 1994, Jerry Yang and David Filo incorporated Yahoo!
In 2006 – English-language Wikipedia reached its one millionth article, "Jordanhill railway station."
Like Tech History? Get the illustrated Year in Tech History at Merritt's Books site.