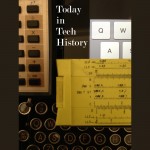 In 1895 – The Lumiere brothers showed their first film to an audience. It was a romantic comedy about a crowd of mostly women leaving a building.
In 1960 – Arthur Schawlow and Charles Hard Townes were granted the first patent for a laser (U.S. No. 2,929,922) under the title "Masers and Maser Communications System."
In 1981 – RCA's first SelectaVision VideoDisc, the SFT100W, went on sale. The machine used Capacitance Electronic Discs to fit a couple hours of video programming on a 12-inch vinyl disc that sold for around $15.
In 1993 – The Intel Corporation shipped the first Pentium chips featuring 60 and 66 MHz CPUs.
Subscribe to the podcast. Like Tech History? Get Tom Merritt's Chronology of Tech History at Merritt's Books site.