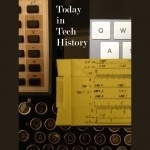 In 1474 – The Venetian Senate issued a Statute on Industrial Brevets that is widely considered the first patent law. Patents had been issued before, often at the whims of monarchs, but this statute codified the practice and set out a standard 10-year term.
In 1932 – The Sydney Harbour Bridge was opened. It is the world's largest (but not the longest) steel arch bridge with the top of the bridge standing 134 metres above the harbour.
In 1991 – US patent No. 5,000,000 was issued to microbiologist Lonnie. O. Ingram of the University of Florida for a process of turning garbage into fuel. His method depended on the creation of a new species of bacterium genetically formed from two other bacteria.
Subscribe to the podcast. Like Tech History? Get the illustrated Year in Tech History at Merritt's Books site.