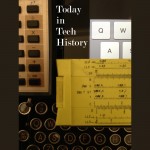 1889 – The first long-distance transmission of electricity took place, sending power from a hydroelectric generator at Willamette Falls 14 miles to 55 street lights at 4th and Main in Portland, Oregon.
1948 – Ed Brown Jr., a former Navy pilot, opened a fly-in movie theater near Wall Township, New Jersey. You could also drive in. The theater had space for 500 cars and 25 small planes could land in a nearby airfield and taxi over to the theater.
1965 – Gemini 4 launched on the first multi-day space mission by a NASA crew. Crew-member Ed White performed the first US spacewalk.
Like Tech History? Get the illustrated Year in Tech History at Merritt's Books site.