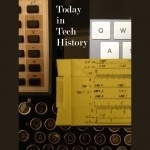 In 1928 – Austrian Friedrich Schmiedl launched his first experimental rocket from a balloon 50,000 feet over Graz, Austria. The rocket was not recovered, but later tests were successful leading to rocket delivered mail.
In 1965 – Officials in the US and Europe conducted the first commercial telephone conversation over satellite Early Bird I. The satellite also began operating for television transmissions "live via satellite."
In 1982 – Microsoft unveiled a new corporate logo with the famous "blibbet" of horizontal lines in the first O. New packaging, and a comprehensive set of retail dealer support materials came along with the blibbet.
In 2011 – Google announced their latest social network attempt. Google + let you put friends in circles and share different things with different circles.
Subscribe to the podcast. Like Tech History? Get Tom Merritt's Chronology of Tech History at Merritt's Books site.