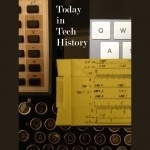 1840 – Samuel F.B. Morse received a US patent for "Improvement in the mode of communicating information by signals by the application of electro-magnetism." We call it Morse code.
http://www.google.com/patents?id=Xx5AAAAAEBAJ&printsec=abstract&zoom=4#v=onepage&q&f=false
1963 – A hotline was established between the Soviet Union and the United States following the Cuban Missile Crisis. While later it would become the famous "red telephone" it started as a teletype.
http://www.history.com/this-day-in-history/united-states-and-soviet-union-will-establish-a-hot-line
2003 – The WikiMedia Foundation was founded in St. Petersburg, Florida by Jimmy Wales to oversee the various Wiki projects like Wikipedia.
http://wikimediafoundation.org/wiki/Press_releases/Relocation
Read Tom's science fiction and other fiction books at Merritt's Books site.