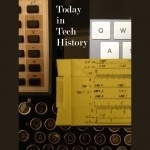 1883 – Thomas Edison and Stephen D. Field built the world's first elevated electric railway. It was a narrow-gauge 3-foot-wide track in the gallery around the edge of the main exhibition building of the Chicago Railway Exhibition. It ran nine miles per hour.
http://www.wired.com/thisdayintech/2011/06/0602first-chicago-el-runs-indoors/
1896 – Guglielmo Marconi applied for British Patent number 12039 regarding a system of telegraphy using Hertzian waves. We'd call it radio.
http://marconisociety.org/about/marconi-family/
2003 – The European Space Agency launched the Mars Express probe from the Baikonur space center in Kazakhstan. It was the fastest planetary probe to be built.
http://www.esa.int/esaMI/Mars_Express/SEMFU55V9ED_0.html
2014 – Apple announced OS X Yosemite and iOS8 at its Worldwide Developers Conference in San Francisco. Among the features were the ability to answer phone calls on your OS X computer, the ability for iOS apps to talk directly to each other, third=party keyboards for iOS, and a new programming language called Swift.
http://www.ibtimes.com/apple-targets-google-wwdc-2014-os-x-mavericks-ios-8-1593874
Read Tom's science fiction and other fiction books at Merritt's Books site.