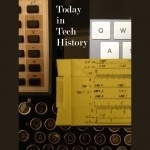 In 240 B.C. – Greek astronomer, geographer, mathematician and librarian in Alexandria, Eratosthenes calculated the Earth's circumference. His data was based on the length of shadows in different locations and simple geometry, but his calculations were not far wrong.
In 1623 – Mathematician Blaise Pascal was born in France. He invented a digital calculator, the Pascaline, to help his father in his tax-collecting work.
In 2003 – Apple released dock connector-to-USB 2.0 cables and drivers for third-generation iPods. Previous iPods had been FireWire only.
Subscribe to the podcast. Like Tech History? Get Tom Merritt's Chronology of Tech History at Merritt's Books site.