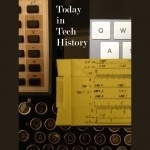 1911 – The Tabulating Company (founded by Herman Hollerith), the Computing Scale Company, and the International Time Recording Company merged to form the Computing-Tabulating-Recording Company in Endicott, New York. They would later change the company name to International Business Machines,and later just IBM.
http://www-03.ibm.com/ibm/history/ibm100/us/en/icons/founded/
1963 – Soviet Cosmonaut Valentina Tereshkova became the first woman to fly in space, orbiting the Earth 48 times.
http://starchild.gsfc.nasa.gov/docs/StarChild/whos_who_level2/tereshkova.html
1977 – Software Development Laboratories was incorporated in Redwood Shores, California, by Larry Ellison, Bob Miner and Ed Oates. They later came up with the catchier name, Oracle.
https://www.fool.com/investing/general/2013/06/16/a-day-full-of-legendary-origins.aspx
Read Tom's science fiction and other fiction books at Merritt's Books site.