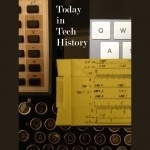 1925 – Charles Jenkins publicly demonstrated synchronized transmission of silhouette pictures and sound, becoming the first person to demonstrate TV in the US.
http://www.bairdtelevision.com/jenkins.html
1941 – John Mauchly visited John Atanasoff to see his computer. The two computer pioneers later battled in court over who was the legal inventor of the electronic digital computer.
http://jva.cs.iastate.edu/mauchlyinames.php
1944 – Germany launched the first guided missile attack in history, sending V-1 rockets into London.
http://www.history.com/this-day-in-history/germans-launch-v-1-rocket-attack-against-britain
1983 – Pioneer 10 became the first human-made object to pass outside Pluto's orbit and leave the central solar system.
https://www.nasa.gov/centers/glenn/about/history/pioneer.html
2016 – At the Worldwide Developers Conference in San Francisco, Apple announced it was changing the name of OS X to macOS starting with the next version of the operating system, macOS Sierra.
http://www.businessinsider.com/wwdc-2016-os-x-becomes-macos-2016-6
2016 – Microsoft announced the Xbox One S, a white slimmed down version of the Xbox One, capable of 4K video and Project Scorpio, a beefed up Xbox capable of 4K gameplay.
http://arstechnica.com/gaming/2016/06/xbox-project-scorpio-hardware-specs-can-it-do-4k/
Read Tom's science fiction and other fiction books at Merritt's Books site.