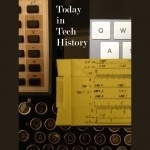 In 1925 – Charles Jenkins publicly demonstrated synchronized transmission of silhouette pictures and sound, becoming the first person to demonstrate TV in the US.
In 1941 – John Mauchly visited John Atanasoff to see his computer. The two computer pioneers later battled in court over who was the legal inventor of the electronic digital computer.
In 1944 – Germany launched the first guided missile attack in history, sending V-1 rockets into London.
In 1983 – Pioneer 10 became the first human-made object to pass outside Pluto's orbit and leave the central solar system.
Subscribe to the podcast. Like Tech History? Get Tom Merritt's Chronology of Tech History at Merritt's Books site.