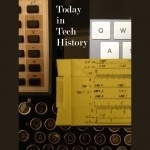 In 1943 – Hungarians László and Georg Bíró, while living in Argentina, patented the first successful implementation of the ballpoint pen.
In 1977 – A few days after going on sale, Apple began shipping the Apple II for the first time.
In 2003 – The Spirit Rover launched on a Delta II rocket, beginning NASA's Mars Exploration Rover mission.
In 2013 – Apple introduced iOS 7 and Apple OS X Mavericks at their Worldwide Develoeprs Conference in San Francisco. They also gave a sneak peek at the new cylindrical Mac Pro and announced their streaming music service called iTunes Radio.
Subscribe to the podcast. Like Tech History? Get Tom Merritt's Chronology of Tech History at Merritt's Books site.