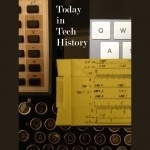 In 1908 – Charles Urban demonstrated Kinemacolor, the first successful color motion-picture process, at a scientific meeting in Paris attended by Auguste and Louis Lumière.
In 1946 – The University of Pennsylvania's Moore School of Electrical Engineering began a summer school course on computing that inspired the EDSAC, BINAC, and, many other similar computers.
In 2011 – The Space Shuttle Atlantis launched on the final Space Shuttle mission.
Like Tech History? Get the illustrated Year in Tech History at Merritt's Books site.