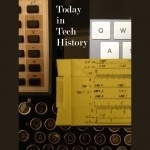 1920 – A US Navy F5L seaplane took off from Hampton Roads, Virginia, using a radio compass for the first time. The pilots located and flew to the Battleship Ohio about 94 miles offshore.
http://www.history.navy.mil/today-in-history/july-6.html
1947 – The AK-47 went into production in the Soviet Union– the name stands for Automatic rifle Kalashnikov model of 1947.
http://www.wired.com/thisdayintech/2009/07/dayintech_0706/
1996 – AOL settled lawsuits in California that accused the company of misleading subscribers about monthly service charges.
https://books.google.com/books?id=8xSECwAAQBAJ&pg=SA4-PA51&lpg=SA4-PA51&dq=july+6+1996+aol&source=bl&ots=-Ld1WBM_Ej&sig=8Vk_JNskkjnxx4VFjboW80Ip_3Y&hl=en&sa=X&ved=0ahUKEwiBgPSH-PHbAhVEwlQKHcYrBqMQ6AEIMDAB#v=onepage&q=july%206%201996%20aol&f=false
Read Tom's science fiction and other fiction books at Merritt's Books site.