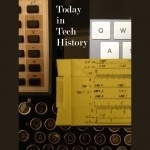 In 1920 – A US Navy F5L seaplane took off from Hampton Roads, Virginia, using a radio compass for the first time. The pilots located and flew to the Battleship Ohio about 94 miles offshore.
In 1947 – The AK-47 went into production in the Soviet Union– the name stands for Automatic rifle Kalashnikov model of 1947.
In 1996 – AOL settled lawsuits in California that accused the company of misleading subscribers about monthly service charges.
Like Tech History? Get the illustrated Year in Tech History at Merritt's Books site.