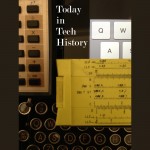 1947 – ENIAC was switched on after being transferred to the Aberdeen Proving Ground, Maryland. It operated continuously until October 2 1955.
http://www.maximumpc.com/12-things-you-didnt-know-about-eniac/
1951 – A recording was made of Beethoven's 9th by EMI that eventually became used to justify the diameter of the CD.
http://www.naxos.com/mainsite/blurbs_reviews.asp?item_code=8.111060&catNum=8111060&filetype=About+this+Recording&language=English
1958 – President Eisenhower signed the National Aeronautics and Space Act, creating the National Aeronautics and Space Administration.
http://www.nasa.gov/exploration/whyweexplore/Why_We_29.html
2015 – Microsoft launched Windows 10 as a free upgrade for users of Windows 7 and Windows 8.1.
http://www.itpro.co.uk/operating-systems/23119/windows-10-release-date-and-specs-76
Read Tom's science fiction and other fiction books at Merritt's Books site.