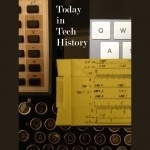 In 1947 – ENIAC was switched on after being transferred to the Aberdeen Proving Ground, Maryland. It operated continuously until October 2 1955.
In 1951 – A recording was made of Beethoven's 9th by EMI that eventually became used to justify the diameter of the CD.
In 1958 – President Eisenhower signed the National Aeronautics and Space Act, creating the National Aeronautics and Space Administration.
Subscribe to the podcast. Like Tech History? Get Tom Merritt's Chronology of Tech History at Merritt's Books site.