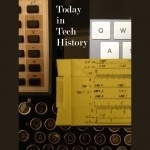 In 1959 – Christopher Cockerell's Hovercraft crossed the English Channel for the first time, celebrating the 50th Anniversary of Frenchman Louis Bleriot's historic first cross-Channel heavier-than-air flight.
In 1990 – Microsoft became the first software company to exceed $1 billion in sales in a single year, reporting revenues of $1.18 billion for fiscal year 1990.
In 2010 – Wikileaks published classified documents about the War in Afghanistan, one of the largest leaks in U.S. military history.
Subscribe to the podcast. Like Tech History? Get Tom Merritt's Chronology of Tech History at Merritt's Books site.