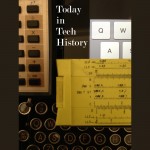 1874 – Woodward and Evans Light filed a patent for "Artificial light by means of electricity" with the Canadian Department of Agriculture. Woodward later sold the patent to Thomas Edison, who patented a different and more successful version of the incandescent lamp in the US.
http://www.collectionscanada.gc.ca/cool/002027-2003-e.html
1950 – The Bumper 8, made of a German V-2 missile lower stage and WAC-Corporal upper stage launched from the Cape Canaveral Air Force Station. It was the first launch from what would become the Kennedy Space Center.
https://airandspace.si.edu/collection-objects/first-launch-cape-canaveral-florida-july-24-1950
1969 – Apollo 11 arrived safely in the Pacific Ocean, ending the first manned mission to land on the Moon.
http://airandspace.si.edu/collections/imagery/apollo/as11/a11facts.htm
2013 – Google announced the Chromecast, a $35 HDMI stick, powered by USB, that streamed video from the Internet and other devices to a TV.
http://gigaom.com/2013/07/24/google-announces-chromecast-a-dongle-to-stream-online-videos-to-your-tv/
Read Tom's science fiction and other fiction books at Merritt's Books site.