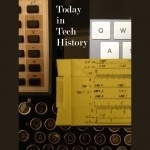 1975 – Xerox announced its withdrawal from computer mainframe manufacturing. The company did indicate it would continue activities in other computer-related businesses like computer disk drives, serial printers, and apparently giving away secrets to companies like Apple and Microsoft.
http://www.navy.mil/SUBMIT/display.asp?story_id=57218
2002 – WorldCom filed for the largest Chapter 11 bankruptcy in US history. It was the number two long-distance phone company, at a time when that still meant something. It would end up changing its name back to MCI, and its remains exists as Verizon's business division.
http://money.cnn.com/2002/07/19/news/worldcom_bankruptcy/
2011 – The Space Shuttle Atlantis landed at Kennedy Space Center's Shuttle Landing Facility, Runway 15, ending the US space shuttle missions.
http://www.nasa.gov/mission_pages/shuttle/shuttlemissions/sts135/launch/sts-135_mission-overview.html
Read Tom's science fiction and other fiction books at Merritt's Books site.