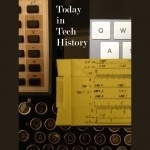 1897 – 23-year-old Guglielmo Marconi received a patent in England for his wireless telegraphy which we now call radio. The Wireless Telegraph and Signal Co. Ltd. was formed a few weeks later.
http://books.google.com/books?id=nKFvnNl9vOEC&pg=PA12&lpg=PA12&dq=july+2+1897+marconi+patent&source=bl&ots=1NI414s3Yx&sig=GcY7GmafCafXYqNc3fCEDrT2FLg&hl=en&sa=X&ei=FmHGT5TTLbPE2QX92pXrAQ&ved=0CFAQ6AEwAw#v=onepage&q=july%202%201897%20marconi%20patent&f=false
1928 – W3XK, owned by the Jenkins Television Corporation, went on the air becoming the first television broadcasting station in the US.
http://online.sfsu.edu/hl/cfj/cfj.W3XK.html
2001 – Bram Cohen first revealed BitTorrent on a Yahoo group called decentralization.
http://finance.groups.yahoo.com/group/decentralization/message/3160
Read Tom's science fiction and other fiction books at Merritt's Books site.