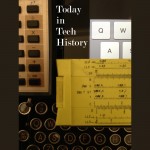 1961 – Trans World Airlines began offering regular in-flight movies on scheduled flights. The first film shown, only in the first class cabin, mind you, was "By Love Possessed," starring Lana Turner and Efrem Zimbalist Jr.
https://travelersunited.org/today/81-years-since-the-first-inflight-movie-was-shown/
1983 – Michael W. Vannier and his co-workers J. Marsh and J. Warren published the first three-dimensional reconstruction of single computed tomography (CT) slices of the human head.
http://radiology.rsna.org/content/150/1/179.full.pdf
2004 – Apple announced the fourth-generation iPod with 12-hour battery life and the ability to shuffle songs. HP announced they would sell an HP branded version of this model of the iPod.
http://www.apple.com/pr/library/2004/07/19Apple-Introduces-the-New-iPod.html
Read Tom's science fiction and other fiction books at Merritt's Books site.