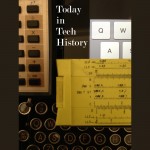 1899 – Nippon Electric Company Ltd. (NEC) was founded by Iwadare Kunihiko, an expert in telegraphic systems who worked under Thomas Edison. Western Electric provided funding, making it the first Japanese joint-venture with a foreign company.
http://www.nec.com/en/global/about/history.html
http://www.nec.com/en/global/about/history.html http://www.britannica.com/EBchecked/topic/664589/NEC-Corporation
1995 – The US Air Force announced the Global Positioning System had met requirements for Full Operational Capability. The navigation system was strictly the province of the US Department of Defense operated by the 2nd Space Operation Squadron of the 50th Space Wing at Falcon Air Force Base in Colorado.
http://www.colorado.edu/geography/gcraft/notes/gps/foc.txt
1997 – DNS was widely disrupted making email routing and web page delivery spotty throughout the day. An Ingres database failure resulted in corrupt .COM and .NET zone files. A system administrator mistakenly released the zone file without regenerating the file and verifying its integrity.
http://scripting.com/davenet/stories/DNSOutage.html
2002 – Apple announced PC versions of the iPod with MusicMatch software instead of iTunes. The company also announced a 20 GB version of the music player and touch-sensitive scroll wheel and dropped the prices.
http://www.apple.com/pr/library/2002/07/17Apple-Unveils-New-iPods.html
Read Tom's science fiction and other fiction books at Merritt's Books site.