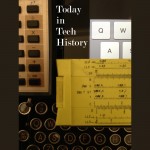 1945 – The United States detonated a plutonium-based test nuclear weapon at the Alamogordo Bombing and Gunnery Range in New Mexico. The Trinity test ushered in the atomic age.
http://www.osti.gov/manhattan-project-history/Events/1945/trinity.htm
1951 – VisiCalc creator Dan Bricklin was born in Philadelphia.
http://www.computerhistory.org/tdih/July/16/
1969 – Neil A. Armstrong, Edwin E. Aldrin, Jr., and Michael Collins, blasted off from Cape Kennedy on Apollo 11, the first manned mission to the surface of the moon.
http://science.ksc.nasa.gov/history/apollo/apollo-11/apollo-11.html
1995 – Amazon.com opened for business selling books online. Shipments were packed into boxes from a desk made out of a spare door in a two-car garage in Bellevue, Washington.
http://content.time.com/time/business/article/0,8599,2004089,00.html
Read Tom's science fiction and other fiction books at Merritt's Books site.