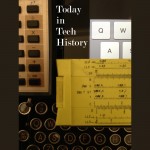 1867 – Alfred Nobel demonstrated dynamite for the first time at Merstham Quarry, Surrey.
http://www.information-britain.co.uk/famdates.php?id=572
http://www.nobelprize.org/alfred_nobel/biographical/articles/dolan/
1918 – Computer pioneer and MIT professor Jay Forrester was born on a cattle ranch in Climax, Nebraska. With Robert Everett, Forrester led one of the most important early computer projects, the Whirlwind, and developed and founded the field of system dynamics.
http://jsterman.scripts.mit.edu/docs/Lane-2011%20Profiles%20in%20Operations%20Research.pdf
1965 – Mariner 4 flew by Mars, taking 21 full pictures, the first close-up photos of another planet returned from space.
http://nssdc.gsfc.nasa.gov/nmc/spacecraftDisplay.do?id=1964-077A
2015 – The New Horizons spacecraft made its closest approach to Pluto after traveling for nine and a half years and three billion miles. It was the last of the nine planets to be approached by a probe, though Pluto had been reclassified as a dwarf planet after New Horizons had launched.
http://www.nytimes.com/2015/07/15/science/space/nasa-new-horizons-spacecraft-reaches-pluto.html?_r=0
Read Tom's science fiction and other fiction books at Merritt's Books site.