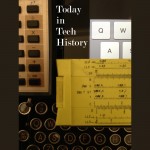 1867 – Alfred Nobel demonstrated dynamite for the first time at Merstham Quarry, Surrey.
1918 – Computer pioneer and MIT professor Jay Forrester was born on a cattle ranch in Climax, Nebraska. With Robert Everett, Forrester led one of the most important early computer projects, the Whirlwind, and developed and founded the field of system dynamics.
1965 – Mariner 4 flew by Mars, taking 21 full pictures, the first close-up photos of another planet returned from space.
2015 – The New Horizons spacecraft made its closest approach to Pluto after traveling for nine and a half years and three billion miles. It was the last of the nine planets to be approached by a probe, though Pluto had been reclassified as a dwarf planet after New Horizons had launched.
Like Tech History? Get the illustrated Year in Tech History at Merritt's Books site.