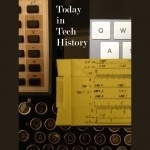 In 1854 – George Eastman was born to Maria Kilbourn and George Washington Eastman in Waterville, New York. He went on to found the Eastman Kodak Company and invented the roll of film.
In 1949 – At an IBM sales meeting, Thomas J. Watson Jr. predicted that within 10 years, electronics would replace moving parts in machines. His vision launched IBM into dominating the computer industry.
In 2004 – Apple announced the iTunes Music Store sold its 100,000,000th downloaded song. "Somersault (Dangermouse remix)" by Zero 7 was purchased by Kevin Britten of Hays, Kansas.
Subscribe to the podcast. Like Tech History? Get Tom Merritt's Chronology of Tech History at Merritt's Books site.