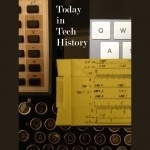 1856 – Nikola Tesla was born in Smiljan, Lika, Croatia, which was then part of the Austro-Hungarian Empire. His father was a Serbian Orthodox Priest and his mother an inventor of household appliances.
http://www.teslasociety.com/biography.htm
1962 – The world's first communication satellite, Telstar, was launched into orbit from Cape Canaveral on a Delta rocket.
https://www.nasa.gov/topics/technology/features/telstar.html
1990 – The Electronic Frontier Foundation was formally founded, immediately coming to the aid of Steve Jackson Games, who's BBS had been seized by the Secret Service.
http://w2.eff.org/legal/cases/SJG/?f=eff_creation.html
Read Tom's science fiction and other fiction books at Merritt's Books site.