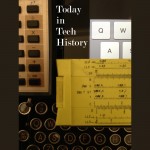 1901 – The first application for a patent for Meccano was submitted. Known at first as "Mechanics Made Easy," this invention of Frank Hornby became a worldwide success and is sold in the US under the name "Erector Set"
http://www.nzmeccano.com/Outfitsmme.php
1992 – Apple CEO John Sculley coined the term Personal Digital Assistants, or PDAs, and indicated Apple would get into the business of making them later that year.
http://www.thefreelibrary.com/REMARKS+BY+JOHN+SCULLEY,+CHAIRMAN+AND+CEO,+APPLE+COMPUTER+INC.+AT…-a011685610
https://groups.google.com/forum/?fromgroups=#!msg/comp.sys.mac.announce/oqfX2Jp6gWw/UaF11YI9tRkJ
2001 – Apple introduced iTunes for the Macintosh, featuring CD ripping, digital music organizing, and Internet radio.
http://www.apple.com/pr/library/2001/01/09Apple-Introduces-iTunes-Worlds-Best-and-Easiest-To-Use-Jukebox-Software.html
2007 – Apple CEO Steve Jobs introduced an iPod, an Internet device and a phone all in one. It was called the iPhone and would go on sale later that summer. It was pretty popular at the time.
http://www.apple.com/pr/library/2007/01/09Apple-Reinvents-the-Phone-with-iPhone.html
Read Tom's science fiction and other fiction books at Merritt's Books site.