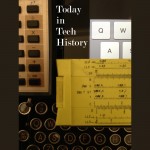 1889 – Herman Hollerith received a patent for his electronic tabulating machine. His Tabulating Machine Company would go on to merge with three others and be called International Business Machines, known today as IBM.
1973 – Less than a month after the last manned Moon mission, Apollo 17, the USSR launched space mission Luna 21 carrying lunar rover Lunakhod 2.
1982 – The United States vs. AT&T settlement was finalized with AT&T agreeing to divest itself of local exchanges in exchange for being allowed to start AT&T Computer Systems. Like Voltron, the behemoth would eventually reassemble.
1986 – "The Mentor" wrote "The Conscience of a Hacker" writing "This is our world now." It was published on Phrack and is often referred to as the Hacker Manifesto.
Read Tom's science fiction and other fiction books at Merritt's Books site.