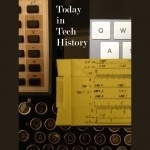 In 1889 – Herman Hollerith received a patent for his electronic tabulating machine. His Tabulating Machine Company would go on to merge with three others and be called International Business Machines, known today as IBM.
In 1973 – Less than a month after the last manned Moon mission, Apollo 17, the USSR launched space mission Luna 21 carrying lunar rover Lunakhod 2.
In 1982 – The United States vs. AT&T settlement was finalized with AT&T agreeing to divest itself of local exchanges in exchange for being allowed to start AT&T Computer Systems. Like Voltron, the behemoth would eventually reassemble.
Like Tech History? Get the illustrated Year in Tech History at Merritt's Books site.