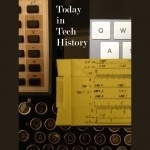 In 1957 – Hamilton Electric held a press conference to announce the World's First Electronic Watch. The Hamilton Electric 500 never needed winding, just batteries.
In 1977 – Steve Jobs and Steve Wozniak incorporated Apple Computer Company. Ron Wayne famously backed out, selling his shares for $800. Ouch.
In 1999 – The US Mars Polar Lander was launched. It would spend most of the year wending its way towards Mars before it lost communication with Earth in December, presumably after crashing.
In 2009 – "Satoshi Nakamoto" created a virtual currency called Bitcoin posting an announcement and 31,000 lines of code on the Internet.
Like Tech History? Get the illustrated Year in Tech History at Merritt's Books site.