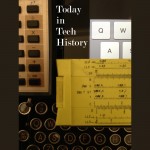 1926 – John Logie Baird gave his first public demonstration of a broadcast television picture that delivered a recognizable human face. Previously he could only broadcast silhouettes.
1932 – The US Patent Office received a patent application for the cyclotron by Ernest Orlando Lawrence as a "Method and Apparatus for the Acceleration of Ions."
1949 – The Hale telescope at Palomar Observatory saw first light under the direction of Edwin Hubble, becoming the largest aperture optical telescope. Hubble photographed Hubble's Variable Nebula (NGC 2261).
1983 – Lotus began selling its spreadsheet application for Microsoft DOS, called 1-2-3. It would quickly become the most popular spreadsheet software but not make the transition to Windows well and fall behind Excel permanently.
Read Tom's science fiction and other fiction books at Merritt's Books site.