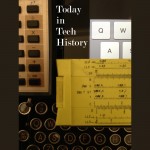 1929 -The movie In Old Arizona was released. It was the first full-length talking motion picture in the US to be filmed outdoors.
1934 – Fuji Photo Film Co. Ltd., the photographic and electronics company known today as Fujifilm, was founded in Tokyo, Japan.
1981 – The inauguration of US President Ronald Reagan became the world's first broadcast to feature live teletext subtitles for the hearing impaired.
2009 – The inauguration of US President Barack Obama became the most widely-streamed Presidential inauguration to that time. According to Akamai's Net Usage Index, web traffic peaked at 5.4 million requests per minute — and two terabits per second.
Read Tom's science fiction and other fiction books at Merritt's Books site.