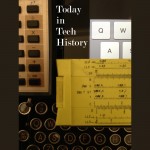 1910 – The first public radio broadcast took place with a live performance of the opera Cavalleria rusticana sung by Enrico Caruso and others was broadcast from the Metropolitan Opera House in New York City. The transmitter had 500 watts of power.
http://www.smithsonianmag.com/history-archaeology/Radio-Activity-The-100th-Anniversary-of-Public-Broadcasting.html
1928 – Three television sets were installed by GE in homes in Schenectady, New York, in order to demonstrate the first home television receiver. The picture was 1.5 inches long by 1 inch wide and 24 lines at 16 frames per second.
http://books.google.com/books?id=tyurXyEBPxkC&pg=PA66&dq=January+13+1928+television&hl=en&sa=X&ei=MILuTs_qEemqiALS7YXYBA&ved=0CEoQ6AEwAA#v=onepage&q=January%2013%201928%20television&f=false
1976 – Raymond Kurzweil and the leaders of the National Federation of the Blind announced the Kurzweil Reading Machine, the first text-to-speech machine. Walter Cronkite used it to deliver his signature sign-off, "And that's the way it was, January 13, 1976."
http://www.kurzweiltech.com/raybio.html
2014 – Google announced it would acquire smart appliance maker Nest.
http://thenextweb.com/google/2014/01/13/google-acquires-nest-3-2-billion/
Read Tom's science fiction and other fiction books at Merritt's Books site.